At a time when sustainability and environmental protection are shared priorities globally, optimal and sustainable waste management is crucial to protecting the environment and preserving natural resources.
In this context, the use of recycled asphalt in the production of new road surfaces is an innovative and now indispensable solution for the management of waste in this sector. In this article we will explore the concept of recycled asphalt  and how this can help to achieve a more sustainable approach. 
Recycled asphalt: an important step towards sustainability
Recycled asphalt is obtained through the recycling process of existing asphalt, recovered from old roads, construction or demolition waste and other similar materials. This process reduces the amount of waste going to landfill while promoting the development of a circular economy where materials are reused and not disposed of.
Recycled asphalt is a sustainable solution because it allows the recovery of resources, the reduction of the consumption of virgin materials and the reduction of the environmental impact resulting from the production of new asphalt.
Advantages of recycled asphalt
The use of recycled asphalt offers several advantages that make it attractive both environmentally and economically. Firstly, the recycling process requires less energy than traditional asphalt production, thus reducing greenhouse gas emissions and energy resource consumption.
Secondly, recycled asphalt is generally cheaper to produce than new asphalt, offering an economic advantage to administrations and companies involved in road and infrastructure management.
Quality and performance of recycled asphalt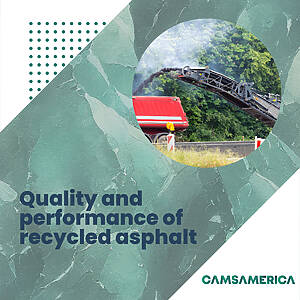 One of the main concerns about the use of recycled asphalt is quality and performance compared to traditional asphalt. However, thanks to advances in technology and manufacturing processes, recycled asphalt is now highly performing, with properties and durability similar or even superior to virgin asphalt. 
The adoption of recycled asphalt as social responsibility
Sustainable waste management must be a shared objective involving governments, businesses and citizens. The adoption of recycled asphalt is an important step to promote sustainability and reduce the environmental impact generated by road infrastructure. Local authorities can promote policies to use recycled asphalt and encourage recycling of road waste. At the same time, companies involved in road construction and maintenance can adopt recycled asphalt as standard practice and contribute to a green future.
With its environmental, economic and performance advantages, recycled asphalt offers a responsible and innovative alternative to building and maintaining road infrastructure. Its adoption is therefore a crucial step towards a more sustainable and conscious future.