The quality of service is crucial for any company that wants to ensure customer satisfaction and maximum efficiency of plant and machinery. In this perspective, CAMSAMERICA is committed to providing state-of-the-art services to support its customers quickly and efficiently. Let's see in detail what are the assistance services we can offer to all our customers.
CAMSAMERICA plants are equipped with the GPS positioning system that allows you to view the position from any device. This feature gives you control and visibility over the activities of your machines, allowing for better planning and management of work in the field.
Remote performance control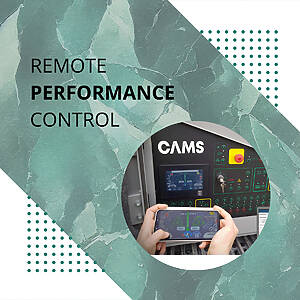 Remote Plant Performance Monitoring provides a number of features to control and optimize the use of your machines. With productivity reports, online database, working hours, remote functions and alarms, you can always keep an eye on the performance of your machines and take timely action when needed. This service enables proactive machine management, reducing downtime and maximizing productivity.
Access literature and manuals, anytime, anywhere, from any device
To ensure complete and immediate support, CAMSAMERICA has implemented a digitized documentation system available in the restricted area of the site. Operator manuals, parts catalogues, datasheets and other information materials related to CAMS machines are available online at any time, allowing customers to access the necessary information quickly and conveniently.
Video tutorial for machine operation
To further simplify plant and machinery utilization, CAMSAMERICA has developed a series of video tutorials covering a wide range of topics, from startup procedures to advanced operations, enabling customers to learn and master machine operation in a simple and intuitive way. The video tutorials are easily accessible in the reserved area of the site. The immediate availability of state-of-the-art support services is crucial to our customers' success and confidence: At CAMSAMERICA we are committed to providing our customers with innovative and technological services to support our machines and plants in an efficient and sustainable way.
Technology at the service of customers: this is the goal of CAMSAMERICA to ensure maximum satisfaction and always excellent results.