When you remove the asphalt from the roads for renewal or replacement of old pavements, and remaking of the road surface, you get a granular material composed of fragments of asphalt, gravel and sand.  The use of RAP in the production of new bituminous conglomerate reduces the amount of waste material and lowers the cost of materials needed to build new asphalt layers.
How the RAP – Reclaimed Asphalt Pavement is produced
The waste produced by the old pavements is collected, crushed and mixed with fresh asphalt and other additives to create RAP, the recycled asphalt mixture. This mixture is then used to build new asphalt layers for new pavements. 
Materials of which recycled asphalt is composed
RAP is mainly composed of:
These elements are removed from the old roads during the milling process. The RAP is then crushed and mixed with fresh asphalt and other additives.
Why Use RAP for Road Resurfacing
The use of RAP is effective in building low-impact roads because it reduces the amount of waste that ends up in landfills and decreases the demand for resources for building new roads.
Furthermore, recycled asphalt has a lower impact on greenhouse gas emissions than conventional asphalt, since it requires less energy to produce and transport it.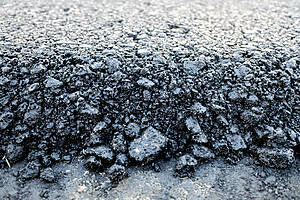 CAMSAMERICA solutions for asphalt recycling
Asphalt is a durable and durable material but after a certain period of time and use, it becomes necessary to replace it. In the past, abandoned asphalt was disposed of as waste, but today there are recycling techniques that allow it to be reused in a sustainable way. Asphalt recycling is an important solution to reduce the environmental impacts of road surface production and to create a circular economy that enhances abandoned materials.
At CAMSAMERICA we have always strived to create solutions and products to ensure the recycling of inert materials. CAMSAMERICA plants are capable of destroying asphalt waste for which the original particle size curve is not altered, thus ensuring 100% bitumen recycling.
All our shredders are designed to return a product of the highest quality starting from a wide variety of materials. The APR range for example, consists of a single integrated mobile system that guarantees the best efficiency in bitumen collection. The patented gentle shredding action of the CAMS APR range, guarantees 100% reuse of the bitumen content of the original flooring.